Every parent has heard it. Those words that go right through the chore of your nerves and rip them apart.
You know it's a lie.
You KNOW it's not true.
You just want to… breathe Mama! Just Breathe!
Yep. It's that moment when you know that your munchkin likes a food and they swear they hate it. You slaved over the stove for nearly two hours to create a wonderful meal, just for your little monster, uh hum, I mean cute little munchkin, to throw it in the floor and refuse to even try it. All you can do is take a deep breathe and try to reason. So what can you do?
I will be honest here. I personally have't had this problem much with Kalel. It's probably because he's only 19 months old. Maybe it's just because he loves food. But I have been preparing. Dang it, I'm ready for this war! Bring it on, little boy! Bring. It. On.
So with the help of Pinterest (of course) and Google, I have devised a plan to fight back with color and fun! Hopefully I will get paid with giggles and a full baby belly when that day comes.
OH MY! SPRINKLES!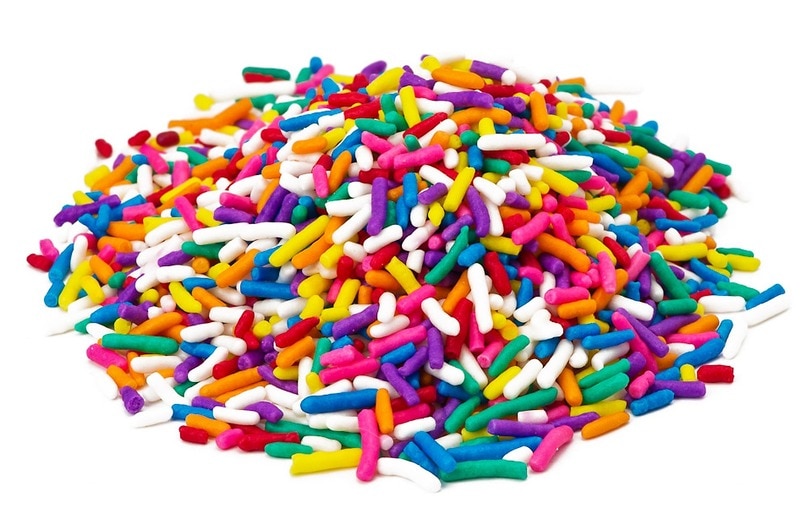 Apparently kids like colorful things. Yep! It's news to me too. Guess what else? They really like sweet stuff. Whaaattt? That's just craziness, right? But seriously, if you make a big scene about it and sprinkle some colorful sweet yumminess on the icky food, it magically becomes AWESOME! Especially if you call it a cute name like "fairy poop". Yep I just told you to feed your munchkin fairy poop. You're welcome.
YAY RAINBOWS!
Add a splash of color!
Munchkin hates pancakes? Add a splash of color! Munchkin hates pasta?Add a splash of color! Munchkin hates sandwiches? You get the point.
Also I know some kids will only eat foods that are a certain color, too. This idea is great for those creative little munchkins! Let them enjoy their blue foods without skipping on the important stuff Mama calls "nooflishious" or something like that. :)
You can add food coloring to practically anything. It's so much fun too! I even have a pin for rainbow pasta!
It's Shake'n'Bake… And I helped!
Let your munchkins help! This is especially fun for lunchtime and snack time.
Even if it's something simple like dicing the onions (JUST KIDDING!!!) Even if it's something simple like adding peanut butter or throwing in some raisins, they'll know that they helped create it and will feel proud, therefore already putting them in a good mood to eat!
LOOK MOM! A FLOWER!
Invest in cookie cutters! It is amazing how fun lunch can be when it's in the shape of a FRIGGIN' UNICORN!!!
They're not just for cookies either! You can make veggies, fruit, and so many other things "perdy" with just a simple push!
You'd better believe before Kalel turns 3, we'll have a big collection of cookie cutters!
Am I Not Turtley enough for the Turtle Club?
Make food into other things. Get as creative as you want! I have seen so many extravagant and beautiful food art, but it doesn't have to be that hard. Look at these turtles, for instance. Slice a kiwi for the body. Cut a grape in half for each of the legs. A whole grape is the head. Eyes? I'm assuming kiwi seeds. How unique! You could even add a tiny slice at the butt for a tail.
I said butt. HEHE! ;)
Ewww Broccoli!
Hide the veggies.
Let's face it, most kids hate vegetables. Heck, most adults hate vegetables. But it's really is important for a well balanced diet. So how do you force a munchkin to eat his veggies? Hide them! Cook them into foods and add them to smoothies. There are many vegetables that can be "hidden" such as carrots, greens such as kale, and even broccoli!
Personally, I love Bolthouse Farms smoothies. They are SO much better than the Naked brand, in my opinion! But you can also make your own right from home! There are TONS of recipes on Pinterest!
Can I have an orange today?
This mom has the right idea. I love this!
Give your kids options for their lunches & snacks. Put a few dairies in one bin, fruit in another, meat, breads… etc. Whatever you want your munchkin to be eating. Then give them a number of how many they can have from each bin.
This is especially helpful for packing lunches for school!
Well that about covers it for tonight. I hope you all have enjoyed it as much as I have. Here is the link to my MUNCHIES FOR MUNCHKINS Pinterest board if you want to explore some more possibilities that I have discovered!
What creative things do you do to get your munchkins to eat? Let me know in the comments below! Thanks for reading!